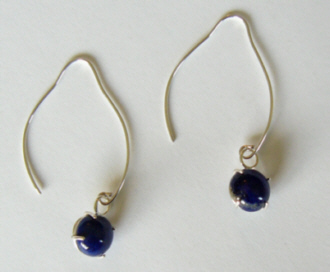 Earrings on long loops are a very early style, usually made from gold. Finds from the Mycenaean & Minoan cultures of the 14th and 13th centuries B.C.E. include an integral 'boat' decoration, whilst finds from Phoenicia dating from the 7th-6th century B.C.E. have a decoration applied to the base of the loop. Plain loops - "hoop earrings" - remain popular in most cultures.

The loops are hand-forged on the premises from Sterling Silver, and the 10mm natural Lapis Lazuli cabochons have been hand-set in Sterling Silver wire.

Beads made from Lapis Lazuli date as early as 2000-1800 BCE in the Egyptian Middle Kingdom period. Lapis Lazuli was the colour of the Divine and was reputed to promote clear understanding and intuition; it helps balance the function of the thyroid gland while strengthening the neck and vocal cords. (See www.shimmerlings.com/gemstones/). Natural Lapis Lazuli often has pyrite and calcite inclusions.