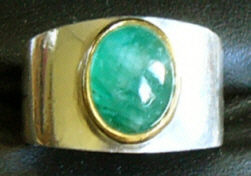 I became a goldsmith/jeweller primarily because of my love of rings. This is one of my earliest pieces, and I had to take into account all of the factors which apply to any Commission. There are three key factors involved. These are:
what the commissioner would like to receive;
any technical limitations to achieving that; and
budget.
Once these factors have been established, the only limit is the combined imaginations of the commissioner and the goldsmith.

In this case, I knew what I wanted: an emerald and gold ring for my 'vacant' little finger; a relatively simple setting which allowed the color of the stone to predominate; at least 14K, and preferably 18K, Yellow Gold; and as bluey-green an emerald as I could afford. Unfortunately my budget would't allow all that, so a creative solution was found.

Somewhat reluctantly, I made the bulk of the ring in Sterling Silver (925/1000), and the band is 12mm wide at the top, tapering to 6mm at the bottom. Since the bezel setting didn't need to be in as hard an alloy as is needed for a whole ring, I was able to make it in the very mellow 22K Yellow Gold. A faceted stone in my desired colour was far too expensive for a reasonable size, so I used a cabochon Emerald instead. At 10mm x 8mm it is a large stone, and although it has a lot of inclusions, the color is good. [The photo doesn't do the color justice, and the inclusions aren't nearly so prominent in normal light.]

In the end I was very happy with the ring. The 22K gold bezel allows it to sit nicely with the rest of my gold rings, it's got a substantial feel appropriate to a 'signet' ring, and the stone is huge! It was also a great lesson: compromises can actually produce quite stunning results!