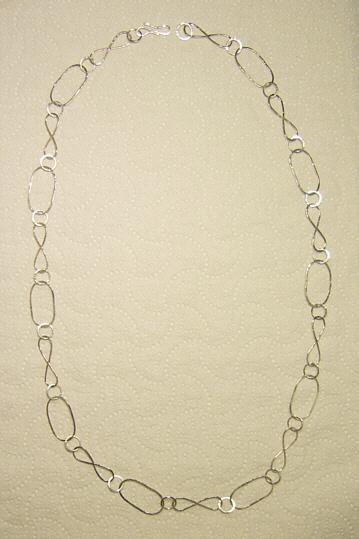 Open-link chain necklaces appear as early as 200 B.C.E. in Greece. They were extremely popular in Europe during the 16th Century C.E., especially in Tudor and Elizabethan England. A statement of status and wealth, solid gold or silver open-link chains were worn on their own or with pendants, and King Henry VIII often gave heavy gold chains as gifts to visiting Ambassadors or those of his Subjects who had done a great service.

Once again high fashion, this hand-crafted neck chain is a more delicate version with a combination of oval, round, and figure-8 shaped links hand-forged from Sterling Silver (925/1000), and the chain closes with a hand-forged S-hook.

Length 86 cm, weight approximately 18.7 gms.




Hand-forging creates different levels of surface of each link. The result is that the necklace sparkles in the light.